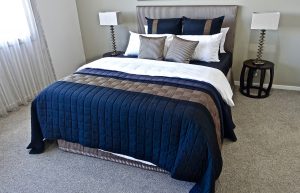 There is nothing better than a good night's sleep, so why let your new bedding keep you awake? That's right, we often get calls from customers worried about caring for their new bedspreads, duvet covers, and comforters. Some want help because of their size and others because of confusing care instructions. All these questions can be answered by Flair Cleaners Rules of Bedding.
For A Better Sleep, Think Before You Buy
Read first. If you are shopping for comforters, bedspreads, or duvet covers, read and keep all care instructions. These are found on a temporary label, a hang tag, or on the packaging.
Check for special finishes or glossy appearances. These are created with special treatments. They look nice when new, but over time they turn chalky and give your expensive show piece a dull look.
Only purchase preshrunk items. Otherwise, plan for at least two to three percent shrinkage after cleaning. This may cause your bedding to look like it's too small (and it will be)!
Invest in high quality, strong, stitching. Quilting stitches should run both vertically and horizontally with quilting lines eight to 10 inches apart. Loose stitching allows the filling to shift during cleaning.
Proper Care Helps You Sleep Well
Beware of invisible stains on bedspreads and duvet covers from body oil, make-up, spills, and dirty hands. Just because you don't see them, doesn't mean they aren't there. That's why you should clean your comforter once a season, or more.
When you do spill, blot it with a towel (don't rub). Then have it professionally cleaned ASAP. Don't forget to tell us the source of the stain when dropping off the item. You can leave a note if you are a home/office delivery customer, or if you are using VIP Express.
Every time you make your bed (every day, right?), fluff your comforter for continued loft.
Investing in a duvet cover cuts down on how often you need to clean the comforter. However, if your comforter is flat even after a simple shaking, bring it in for re-lofting.
Like suits, be sure to bring all matching pieces of a bedroom set in for cleaning at the same time. This includes comforters, duvets, shams, dust ruffles, and curtains. Doing so will help keep any potential color loss the same.