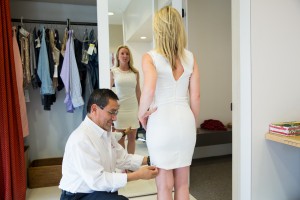 Oops…you just snagged your favorite sweater, or caught your shirt sleeve on a sharp edge and now it's torn. Our expert tailors can fix these "oops," replace zippers and buttons, or deftly alter your clothes to ensure they fit beautifully and look like new. These minor repairs and alternations can help you get more life out of your garments.
Is your favorite dress a bit dated?  No worries. Bring your personal, updated style to any garment with our custom fittings. Our tailors will take in or let out seams, raise or lower hemlines, or even redesign older fashions for much less than the cost of an entirely new outfit.  Our on-site tailoring department features spacious dressing rooms, and a comfortable fitting area, with mirrors so we are sure you get the look and fit you desire. Consider Flair Cleaners your personal tailor for all your alteration and repair needs, and remember, your satisfaction is guaranteed.
In addition to tailoring, Flair offers a wide range of specialty services, including:
 Our VIP Express Service saves time by letting you conveniently and quickly drop off and pickup  your cleaning without waiting. Your order will be automatically charged to a credit card or your Flair account.
Flairs' Office Ambassador Program provides pickup and delivery where you work.
With our Wash & Dry services – perfect for sheets, towels, and other clothes that don't need dry cleaning – you save time, get fast turn-around, and enjoy fresh, clean laundry without the work.
At Flair Cleaners, we know you have a 24-7 lifestyle. That's one of the reasons why we give your clothes the same care and attention to detail that you would, if you had the time. Check the individual location pages for Flair Cleaners in Burbank, Santa Monica, Valencia, Redondo Beach, and Studio City to see which services each offers.