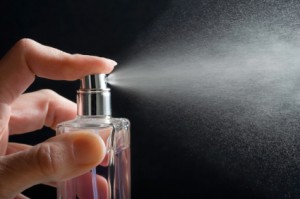 What's the last thing most of us put on when getting dressed?  For many, it's colognes, perfumes and hair sprays. For clothes, this can only mean two things: stains and damage to fabrics.
Essential oils and alcohol used in these sprays can fade colors or weaken fibers resulting in permanent damage.  While Flair's professionals will do everything possible to eliminate spray residues and protect clothing, once the damage or color loss sets in, it's impossible to reverse.
It's easy to prevent this type of damage and still look, smell and feel your best.
Use perfume, cologne and hair spray before dressing. Let sprays dry on your skin completely and then dress.
Apply a thin layer of deodorant before getting dressed. Allow it to dry for at least thirty seconds. Hold spray deodorants at least six inches from your skin; any closer and you are applying too much.
Roll the hem of your shirt or dress outward before putting it on over your head. Once on, unroll it.  This prevents deodorant residue from getting on the outside of clothing.
Dry clean all clothing every time you use perfumes or other sprays
When bringing clothes to Flair Cleaners that may have been exposed to sprays like these, be sure to let our professionals know. They will be sure the clothes are treated specifically to help eliminate these stains and prevent further damage.