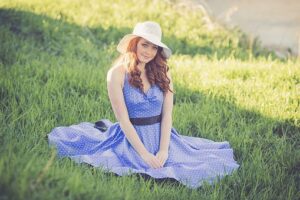 We usually see more garments made from cotton, linen fibers, and crepe yarns in spring. Cotton and linen are natural, lightweight fibers that add versatility and flair to any spring wardrobe. Dresses and outfits made of crepe are also popular. Crepe fabrics can look crinkled and include wool, silk, rayon, acetate, or polyester.
Taking care of these garments is important to keep them looking fresh and crisp for many springs to come. Here are some tips on how to care for these fabrics properly.
Cleaning Cotton
Most cotton can be washed, although some require dry cleaning. It is essential to check the instructions on the care label before cleaning.
Separate colors before washing. Many kinds of cotton may bleed.
Check the care label for special ironing instructions. Most easy-care cotton such as "wash and wear" and "little or no ironing" only need a cool iron. Save the "cotton" setting for untreated cotton, such as handkerchiefs or tablecloths.
Iron most cotton on the right side. One exception is embossed or embroidered cotton. Iron this on the wrong side (face down), preferably on a padded cloth.
Cleaning Crepe
Due to its fiber composition, most crepe garments are "Dry Clean Only."
Crepe is extremely susceptible to shrinkage when exposed to moisture. This shrinkage is especially true for crepes that contain wool, silk, or rayon. Home stain removal on crepe garments may result in localized shrinkage, which can look like puckering.
If the care label says it is safe to wash the garment, use cool water, rinse thoroughly. Do not use harsh spin cycles or wring the garment—air dry, never tumble.
Finishing usually requires blocking the fabric to get it back to its original shape.
Cleaning Linen
Linen is washable, but it will shrink if the manufacturer has not pre-shrunk it. Check the label before laundering.
If machine washing linens, use warm water and a short, gentle cycle.
Separate colors before washing. Many linens may bleed.
Dry linen garments on a clothing rack or hanger.
Dry clean all pieces of your linen outfits simultaneously to avoid color discrepancies.
Use a high temperature with a spray mist or damp cloth when pressing.
Use a lower setting on your iron for linens treated with a wrinkle-resistant finish.