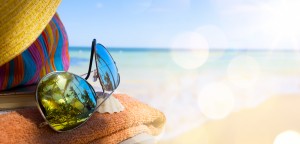 One of the best tips we've heard for summer is to pre-pack your beach bag and leave it by the door or in your car. That way you're always ready to hit the beach whenever the mood strikes. Here are some must have items for everyone's summer beach bag – along with the mandatory beach ball, of course!
If you are hitting the sand with kids, be sure to include 30 to 50 SPF sunscreen, iced water or water in a cooler, snacks, a hat with a brim to cover the face, water shoes, one or two spare bathing suits, baby wipes, sand castle tools, toys, and a sun tent.
When heading out on your own or with friends, pack 30 to 45 SPF sunscreen, one towel or chair to lay on, one towel for drying off, a hat that covers your face, sunglasses with UVA and UVB protection, a good book, music, snacks, iced water or a cooler with beverages, a cell phone, sandals, cover-up or long-sleeved shirt, beach games, and waterproof watch.
Of course, remember to be extra careful with sunscreen, especially oil-based products, around clothes. If you see a stain on a beach dress or shirt, bring it to Flair and we'll take care of it in time for your next adventure!