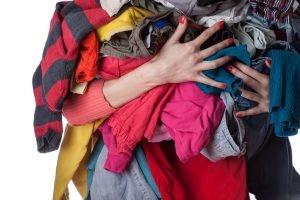 How many of us can honestly say, "I love doing laundry?"  It's something that is at the top of undesirable chores on everyone's "To Do" list. Between kid's activities, business meetings, and social engagements, who has the time? Here's a simple way to take laundry off your "To Do" list?  Bring it to your local Flair Cleaners in Burbank, Redondo Beach, Santa Monica, Studio City, and Valencia. Our Wash & Dry Service turns loads of laundry into clean and fresh clothes, ready to wear.
Preparing clothes for laundry drop-off:
Sort clothing before dropping it off. Separate light colors, dark colors, and whites into different bags. (If you forget, we'll take care of this for you.)
Keep dry cleaning items and delicates out of laundry bags.
Check the pockets. Make sure there is nothing hidden in your clothes that can cause problems during the laundry process.
Tell your Flair cleaning professional any preferences you have, like light or medium starch for shirts.  We will keep these on record for future use.
Flair's Wash & Dry Service is the perfect answer for busy professionals and families. You save time, get fast turn-around, and enjoy fresh, clean laundry – without the work that goes along with it. Additionally, we use gentler machines and cleaning products than mass-marketed detergents, which helps your clothes last longer. And, for an extra touch, choose Flair's flat finishing service and experience the luxury of professionally ironed sheets, pillowcases, and other bedding.
At Flair, we know you have a 24-7 lifestyle. That's one of the reasons why we give your clothes the same care and attention to detail that you would, if you had the time.