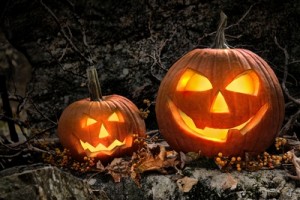 Who doesn't love Halloween? Costumes, candy, and parties! With all the fun, most of us rarely think about Halloween costume cleaning, even though the price of costumes climbs year after year. Caring for your costumes is not only smart, but it can save you money. Consider costumes an investment that need to be cared for it properly so they can be used or loaned for years to come.
It's inevitable, kids are going to wipe sticky fingers on the front of their costumes, smear face paint, and more. Unfortunately, most costumes are made with delicate fabrics and are intended for a single wear. This is why we recommend bringing costumes to Flair for proper cleaning as we know the right formulas for each fabric and can ensure each costume will be cleaned in the best manner.
If you do choose to attempt a stain removal, be sure to test out any and all cleaning agents in an inconspicuous area to avoid obvious damage to the fabric and color loss. Check to be sure the stain is completely gone before drying as heat will cause a stain to set.
Above all, these three types of stains should always be brought to Flair Cleaners.
Face Paint and Make Up: Most contain a form of wax or oil, which if left in for even short periods of time, can set the stain. Because of the complexity of this type of stain, we always recommend bringing it to Flair Cleaners.
Glow Stick Liquid: A basic glow stick is a hollow plastic tube that contains a smaller and thinner glass tube. There are two chemicals that are kept separate until the glass tube inside is broken. Most have hydrogen peroxide, phenyl oxalate ester and a fluorescent dye. Hydrogen peroxide is a mild form of bleach and the fluorescent dyes (usually green, red or blue) can stain. For this reason it is important to flush with cold water immediately. Do not machine dry. Be mindful of the tiny shards of glass that may exist. Take it to your nearest Flair Cleaners and point out the stain and tell us what it is.
Chocolate: Chocolate is a two-way stain, part oil, part tannin and is one of the most difficult stains to remove. Often the chocolate will work its way deep into the fabric fibers causing the stain to reappear after home cleaning.
We recommend that you leave all your stain removal needs to Flair Cleaners as our professionals are experts at knowing the specific treatments to use with every type of fabric for the best results. We promise we'll have your costume cleaned, pressed and looking brand new for next year!