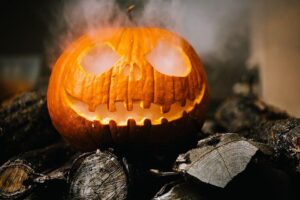 Halloween is almost here. Time for trick-or-treating, black and orange decorations, and lots and lots of candy. Getting together with friends and loved ones is a tradition. This year, celebrate a green Halloween with these tips.
Carving Pumpkins
Put the green into carving your pumpkins.
Buy your pumpkin locally.
Save the insides and repurpose them in different recipes.
Don't use bleach to make your pumpkin last longer. After the season ends and you're ready to get rid of it, critters can use it for food. A natural way to extend the life of your creation is to use vinegar. (1 part vinegar to 10 parts water)
Costume Contest
Make an eco-friendly costume.
Reuse everyday household items that would otherwise go to waste. Get creative – use cardboard boxes to become a robot or turn toilet paper rolls into a pirate's telescope.
Take advantage of what's in your closet. You probably already have a costume in there!
Upgrade last year's costume with some added fake blood.
Homemade Candy
If you want candy at home, make your own! This will cut down on wrapper waste. Here are some ideas:
Caramel apples. Everyone can decorate precisely how their sweet tooth desires.
Sugared pecans.
Anything chocolate-dipped. Pretzels, strawberries, marshmallows, etc.
Halloween Movie Night
Put on a marathon of the family's favorites to get in the Halloween spirit. The eco-friendly spin on this one is pretty simple:
From all of us at Flair, happy green Halloween!