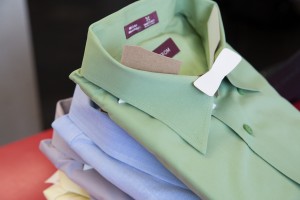 Many of our customers travel often for work, often to meetings that require formal business attire. We know that traveling with dress shirts can be frustrating, especially when you arrive at your destination and find them wrinkled.  Let's face it, baggage handlers need to pack in lots of luggage and keeping your shirts wrinkle-free isn't exactly their top priority.
Our advice? If you know you are going to be traveling, have Flair Cleaners fold your shirts instead of hanging them. Now, some of you may be surprised to learn that we do offer that service (and many others). All you have to do is ask when you drop off your shirts.
We'll fold your shirts over a cardboard sheet and slip it into a plastic bag or box for easy packing. The shirts usually stay locked in place and, if a bag is not over-packed, wrinkles are minimized. When you arrive at your destination, just unpack your shirts and hang them in the hotel closet to release minor folding creases.
That's all there is to avoiding most wrinkles (and ironing) when you travel.