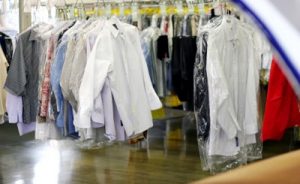 Monday is officially spring! It's time to put away your warm winter clothes and break out your bright, light spring and summer wardrobes. If you follow these simple tips your spring and summer clothes will be fresh and ready to wear, and your winter clothes will be ready for storage.
Be sure to bring your winter clothes to any of our five Flair Cleaners locations  for cleaning before you store them for the season. This will help keep moths and other pests who are looking for food away from your clothes. When storing your clothes, be sure they are kept in a dry location out of direct light and heat.
Getting Ready for Spring
Before unpacking your spring and summer clothes, get a jump on your Spring cleaning and clean out your drawers and closets. Wipe corners and closet rods with a damp cloth, vacuum, and discard or donate things you don't need. Then check to see if any clothes need cleaning or ironing before they are put away.
Then follow these steps regularly to keep your closet in tip top shape.
Take thirty minutes at the end of each week to organize your closet and drawers.
Always put clothes away immediately after wearing them or put them in a hamper or cleaning bag so you don't have to deal with piles later on.
Hang a tote bag in a central location as your "donation bag." When the bag is full take it to a local charity.
Bring the Scents of Spring to Your Closet – Naturally
Hang dried lavender (or cinnamon, rosemary, or balsam) in your closet and use sachets in your drawers. In addition to smelling lovely, lavender is a natural moth repellent.
Place a bar of naturally perfumed soap in your drawers. Many soaps, like Shugar Soapworks, have lovely scents that won't harm or leave residue on your clothes.
Use cedar to naturally repels moths and absorb abrasive odors. To re-use cedar when the scent fades, simply rub the block with sandpaper.
If you have musty or "workout clothes" odors in your closet, put a box of baking soda  on the floor of your closet.
When your clothes do need cleaning, bring them to Flair. We'll take care to ensure they make you always look and feel your best.