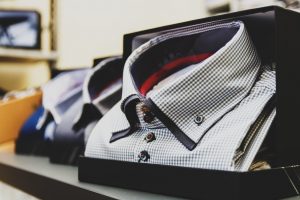 Shirts can be incorporated into pretty much any look, from the smartest suit to a casual outfit.  Men and women can choose from shirts specifically made for comfort, dress, casual occasions, and work. In fact, the shirt is one of the most versatile pieces of any wardrobe.
Types of Shirts
The Dress Shirt. This formal shirt can be incorporated easily into suits and smart casual outfits. It has a slimmer fit, a more structured finish, and is a little shorter than other shirts. The longer back keeps it tucked in when you bend over.  Although white is the most common color, dress shirts come in virtually every color imaginable.
The Button-Down Shirt. These shirts are dressier than a T-shirt, but not as fancy as a dress shirt. Button-downs have a collar, sleeves, cuffs, and they button down the front. They can be dressed down by leaving them untucked or they can be dressed up by wearing a belt and tucking them in. Button-down shirts can be worn with casual or semi-formal pants.
The Business Shirt. Any collared or collarless shirt, cotton or cotton/poly blend, with  buttons all the way down the front is ideal for business wear. Shirts with inverted or creased pockets, flared sleeves, pleats larger than 3/4 inch, or snaps are not considered appropriate for business attire.
The Denim Shirt. This shirt is usually for casual outfits but, with smart and casual pieces being intermixed more and more today, some denim shirts can be worn on dressy occasions.
The Western Shirt. This shirt has oversized pockets and snaps, flared sleeves and a large back flap. It can also have trim that may bleed with cleaning, and rhinestone embellishments. It is usually reserved for specific occasions or casual wear.
Shirt Fit
It is important to remember that fit is king. The perfect fit for any shirt provides total comfort and freedom of movement while making you look fantastic.
The tailoring professionals at our Flair Cleaners locations – Santa Monica, Redondo Beach, Valencia, Studio City or Burbank, will ensure your shirts are tailored to perfection. And if you need repairs, we'll take care of missing or broken buttons, open seams, ripped hems, and more.  And of course, our cleaning professionals will keep your shirt wardrobe laundered, pressed, and ready to wear fresh.