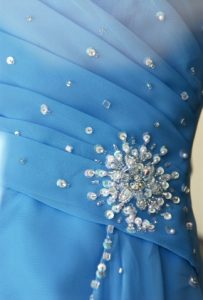 It's your favorite! A stunning dress you bought at a trendy little boutique. It was the ideal fit and it looked stunning on you. You are committed to giving it the best care but the label says, "Spot Clean Only." What does that mean?
Labels can be confusing, so the best thing to do is ALWAYS check with Flair Cleaners so you are sure of the best process to use. In general, Spot Clean Only refers to clothes that have some part that is too delicate for machine washing, dry cleaning, or even hand washing. For example, the combination of fabrics in a garment may require different and mutually exclusive cleaning methods. Embellishments like beads and rhinestones may not hold up to immersing. A fabric that does not hold dyes when cleaned was used. So now what?
This is where Flair Cleaner's knowledge and expertise come into play. For most garments, there's no real way to Spot Clean Only. Most of the time, the entire garment must be immersed to avoid water rings or residual chemicals. Our professional trained dry cleaners will determine the best method based on the garment and the delicate areas. Occasionally, our experts decide that a garment cannot be safely cleaned. This means that they know that any cleaning will ruin the item or that it is already beyond saving. It's unfortunate but this does happen. In that case, we let you know so you can decide what to do. Creative alterations can sometimes solve the problem.
Avoid Spot Clean Only Disasters
Finding out an item is Spot Clean Only after it's been worn is a real bummer.  To avoid disasters consider these tips:
Always check care labels when shopping.
If something is spot clean only, you can then decide if you love it enough to be worth potentially only being able to wear it once.
If you wear a spot clean only item, take precautions. Avoid getting things like hairspray and perfume on the garment. Don't use spray tan. Be extra careful to keep it clean.
If you do happen to get a stain or spot on the garment, take it to Flair Cleaners immediately. Trying to clean it at home will more often than not lead to a ruined item.