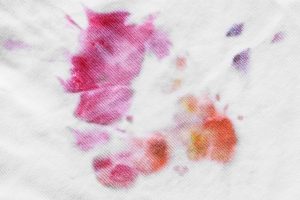 Whether it's a comfortable  outfit you love to wear or a  power suit, no one likes to find stains on their clothes. Stains are caused by a variety of organic and man-made products, for example, oil. Adding to the complexity is that many stains are combinations of types.
Common Types of Stains
Acid-based – including perspiration, deodorant and antiperspirant – even organic or natural brands; fruit juice, and hair preparations, These may cause change or loss of color and weaken the fabric.
Salt-based – such as perspiration, beverages, and food, medicine, even wintry street splash. Most often these cause loss or changes in color, especially on woolen fabrics.
Alcohol-base – commonly found in perfume, cologne, skin freshener, aftershave, hair spray, medicine, and adult beverages. These may become permanent stains or cause significant color loss.
Sugar-based – include fruit, soft drinks, and candy. They may not show up after they dry, but they leave visible marks after washing, if not treated.
Oil-based – usually caused by margarine or butter, makeup, oil, mayonnaise,, deodorant, gasoline, and ring around the collar. People often overlook oil stains. Instead of leaving a brightly stained area, they tend to leave a slightly darkened area that may be difficult to notice right away. If treated with water or incorrect products, they will become permanent.
Which is it? Oil, Salt, Sugar, Acid, or Alcohol-based?
If you aren't sure how to treat any of these or stain combinations, the best thing to do is to bring your clothing to Flair Cleaners in Redondo Beach, Burbank, Studio City, Santa Monica, or Valencia. Our professionals are trained to identify and treat stains based on the type of stain, the fabric, and other considerations.
You can help by bringing your garment in as soon as possible after the stain has occurred. Then show us the location of the stain – this is especially necessary for those "invisible" stains, and if you know, tell us what caused it, e.g. milk.
We will do everything we can to remove the stains. Unfortunately, no one can remove every stain completely. When that happens, it usually means one of the following the fabric is too delicate, the dye is soluble and may fade, the stain has already oxidized and set permanently into the fabric.
Remember the sooner we can treat it, the greater the chance of success.