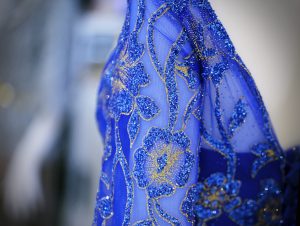 The holidays are over and it is time to clean up! This goes for home decor and clothing. Many holiday, and especially New Year's Eve, outfits include ornate fabrics and special trims. So, how do you clean the dripped champagne and spilled appetizer stains? A good rule to follow is, "When In Doubt, Don't."
Many embellishments, ornate fabrics, and special trims require precise, specialized care. If you have a single doubt about the best approach, bring your garment to Flair Cleaners. Items including sequins, beads, embroidery, appliqués, and other details, are best left to professionals. Some garments include embellishments or trims made from fabrics other than those used on the rest of an outfit. These require special care as the two fabrics may stretch or shrink differently.
Eliminating Doubt
Check the garment care label. The tag may say, "dry clean" or "dry clean only," both of which mean that dry cleaning is the best method of cleaning. If the care label say, "exclusive of trim," it means that the trim will not hold up under regular washing, even if the rest of the material will.
Look for embellishments or trims made from silk, taffeta, wool, rayon, acetate, and velvet. Always dry clean these.
Check for dark, deep colored trims, as these may bleed onto lighter fabrics when washed, and are best cared for with dry cleaning. This is especially true when the garment has both light and dark colors on it.
Examine the trim to determine if it is glued or sewn on.  If it is sewn, is may be safe in the wash.  But, if there are no stitches, the glue holding it on may dissolve when washed.
Some sequins and beads may be hand-painted. These will lose their color over time regardless of how you wash them.
Plastic gems may become cloudy over time as washing at home may cause the foil backing that gives them sparkle to deteriorate.
If your garment has any of these, there is no doubt; bring it to Flair Cleaners for dry cleaning. Our GreenEarth Cleaning Process is gentle enough for even the most delicate items.