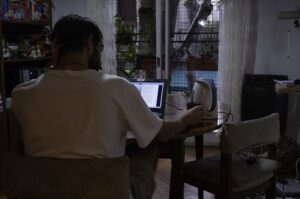 Work goes on regardless of where you are, and so does the need for clean office attire. Whether you work at home or in the office, you can rely on Flair to take care of all your dry cleaning and laundry in the way fits your schedule and preferences. It's your choice!
Counter Service:
If you're headed back to the office or just want to get out of the house for a bit, you can drop off your laundry and dry cleaning at any Flair Cleaners on your way. We're open 7 days a week during the temporary hours listed below.
Monday – Friday 8:00 am – 6:00 pm
Saturday 8:00 am – 5:00 pm
Sunday 10:00 am – 4:00 pm
Please join us in following social distancing protocols and wear a face covering.
FREE No-Contact Home Pickup and Delivery Service
If work-at-home is keeping you busy or staying at home means there's less time to take care of yourself now, sign-up for our FREE No-Contact Home Pickup and Delivery Service. Email us at wedeliver@flaircleaners.com or call your local Flair Cleaners. We'll set you up, schedule a pickup, and let you know the details.
It's that easy!
From our family to yours, thank you for your continued business and stay well!