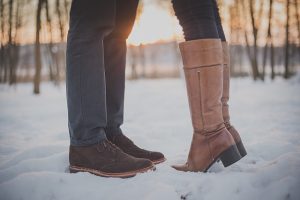 Like your clothes, a coat or basically anything you own, your winter boots will last longer with proper care and maintenance. There are a number of things you can do to protect your boots that will help them last and look good through many seasons.
Benefits of Professional Care 
Flair's expert cobblers know what to look for in terms of wear and tear. Our professionals can fix minor issues early so that they don't have the chance to become big problems.
Flair's experts know the best products to use on every type of boot and the various materials used in their manufacture. This knowledge prevents damage that can occur when the wrong cleaners are used at home. For example, shoe polish makes leather boots look shiny, but it doesn't actually do anything to repair damage or prevent the leather from drying out and cracking.
The professionals at Flair have decades of experience identifying and removing stains from winter boots of all types. They know that caring for suede and nubuck, which can stain easily, requires different processes than smooth leather.
Regular, professional cleaning and conditioning will keep your boots looking like new for years.
Essential Winter Boot Care
Inspect your boots after each wearing. Clean mud or dirt off with a dry cloth, but do not rub any hard-to-remove spots. Never dry your boots near a heater.
Invest in boot forms! Some of the more expensive brands actually do a better job at keeping your boots looking good.
As soon as you notice dirt or stains that don't wipe away with a dry cloth, bring your boots to Flair for cleaning.
Repair broken grommets, popped stitches, worn out heels and souls immediately so they don't become irreparable.
If you have any questions about your winter boots, don't hesitate to bring them to Flair. We're happy to provide information that will help your investment last a long time.