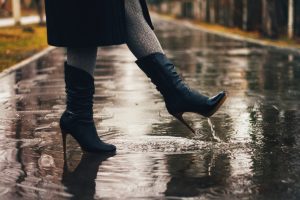 Autumn is here and winter is just around the corner. That means it is time to make sure your leather shoes, boots, and bags are protected. Flexible, strong, functional, and decorative, leather is one of the most versatile materials around. But it is not indestructible. As experts in leather care, we'd like to offer you the  following ideas that help protect and care for your leather.
Winter Leather Care
Be sure your shoes or boots fit properly. Have a cobbler put a thin, protective sole on the bottoms. This helps prevent extra wear.
Maintain your boots, shoes, and leather bags regularly, especially during winter weather. Recondition and moisturize leather regularly so it withstands normal wear and tear. A good leather conditioner or oil works best.
Brush your leather pieces between cleaning/moisturizing. An inexpensive plastic shoe brush is perfect for removing dried mud or dirt. Be sure to brush before moisturizing your leather.
Invest in a good boot and shoe dryer that will completely dry your footwear overnight. Use the dryer on your gloves, hats, and scarves that get wet in wintry weather as well.
Leather needs to breathe. Store your boots and shoes in the cardboard boxes they came in. These allow air to circulate but keep them dust free and clean. If you store your shoes and boots in plastic bins, drill air holes so that the leather can breathe.
Don't hang your leather bags. Hanging puts stress and wear on the shoulder straps. If your bag is stiff and structured, store it upright in a cloth dust bag. If it is flexible, lay it on its side in a dust bag. Use cloth dust bags for shoes if the boxes have disappeared.
Finally, find a good shoe repairperson. A good cobbler will tell you when you can fix your shoes (like having them re-soled) and when it's time to replace them. They can also tell you how to make your shoes last longer. Even little changes like the way you walk can help extend the life of your shoes.
At Flair Cleaners, our professionals and expert cobblers in Studio City and Burbank will help keep your leather accessories clean and in good repair.