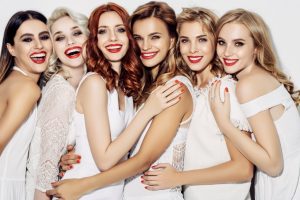 The answer to the question – "Is white a color?"  – is one of the most debated issues about color theory. Ask a scientist and you'll get a reply based on physics: "White is a color." Ask an artist and you'll get another: "White is not a color."
When it comes to fashion, it is absolutely a color. In fact, a muted white is the natural color of most fabrics. Manufacturing processes enhance white fabrics to create the bright, crisp whites designers and consumers covet.
While this process may create the ideal fabric, the brighteners used are unstable. With laundering, age, and wear, this will have the following impact.
Challenges with white fabrics
When exposed to sunlight or artificial light, whites may reflect a more yellowish, gray, pink, or green cast.
Yellowing can occur in sunlight, especially when damp, and when you use bleach. The bleach interacts with the chemicals and resins used to create a permanent press quality.
The most common reason for yellowing is normal aging, oxidation, and exposure to dirt in the air.
Home laundering accelerates these issues. However, professional dry cleaning may reverse or prevent these problems. Flair's professionals in Redondo Beach, Studio City, Santa Monica, Burbank, and Valencia know the processes that avoid problems with brighteners and permanent press solutions.  In addition, our GreenEarth cleaning process is gentle, won't break down colors, and adds to the life of your clothes.
TIP: It's okay to where white after Labor Day!
The fashion rule stating you should never wear white after Labor Day was created by society women who summered at the shore and returned to the city after Labor Day. But, as the Emily Post Institute notes: "…you can wear white after Labor Day, and it makes perfect sense to do so in climates where September's temperatures are hardly fall-like. It's more about fabric choice today than color. Even in the dead of winter in northern New England the fashionable wear white wools, cashmeres, jeans, and down-filled parkas."