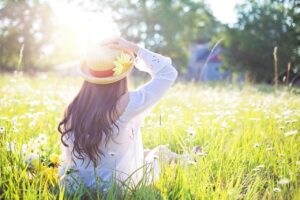 Springtime is almost here! The days are getting longer and warmer, and you're chomping at the bit to get outdoors.
In addition to the anticipation, sunshine, and birdsong, springtime is also cleaning time. And that's a good thing. Especially when it comes to the clothes you've been wearing all winter and the outfits you plan to sport this summer.
In the spirit of the season, we thought we'd let you know what pieces of clothing you should get cleaned this spring.
5 Items for Your Springtime Dry Cleaning To-Do List
We've put together the following list of clothing items you can dry clean to help protect them and help you look sharp. Check it out; we bet there are a few things you may not have thought of.
Winter Clothing – If you put your winter things away after they are freshly cleaned, you will help them last longer and look better. What can you clean? Here's a quick list:

Jackets and coats
UGGs boots
Leather and suede
Scarves, gloves, and hats
Down jackets and parkas
Sweaters

Golf Shirts and T-Shirts – If everyone can tell your favorite golf shirts and t-shirts because of how worn and tired they look, it's time to change all that. Collars will be crisper and colors will be brighter, and you'll get to enjoy your favorite shirt as if it were new again. If you prefer laundry, our Wash and Fold Laundry  Service is the perfect solution.
Shorts – The days of wrinkly, ill-fitting shorts because you've never had them professionally cleaned are over. Your legs will love you for it.
Raincoats – We bet your raincoat has been neglected. Why? Because you probably can't clean the high-tech fabrics at home and because it hasn't been worn much (until lately).
Baseball Caps – Oh, yes. You heard that right. No matter how cool you think your go-to cap looks with its sweat stains and scuff marks, if you want it to last longer, you'll get it cleaned. But, fair warning, don't throw it in the washer or dryer. This is your favorite after all. It deserves professional cleaning.
From all of us at Flair, happy Spring!