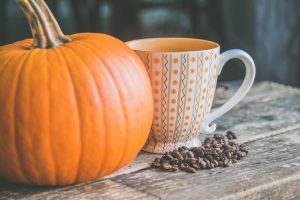 Fall weather means that your clothes, especially leather, suede, and jeans, may require extra care. With our Fall Laundry Guide you can relax and enjoy your favorite latte or spiced cider without worrying if some of it spills on your clothes. All of us have been there and done that! So don't worry, Flair has you covered with these tips below, or with our complete laundry and dry cleaning services.
Common Fall Stains
Fall means pumpkins in every shape, size, and style. Cooking with or carving pumpkins can be a fun, but messy experience. While we think about protecting tables and floors, what about your clothes? First, gently scrape off as much of the pumpkin as possible. Soak in cold water with liquid detergent for about 30 minutes. Launder as usual. Like many vegetable stains, this should come out. However, if the pumpkin has been mixed with milk or oils, you should bring the item to a professional at Flair where so it can be cleaned with the proper treatment.
Bobbing for apples is fun, but eating caramel and candied apples is much better! If you spill caramel, try to gently scrape off as much as possible. Don't rub! Then, combine 1/2 teaspoon of detergent, 1 tablespoon of vinegar, and warm water. Soak the fabric in the mixture for 30 minutes to remove the stickiness. When finished, blot the stain with a dry cloth to remove the extra grease. You can try to launder this as usual, but we recommend bringing it to our stain professionals.
Caution: If you try to clean fall stains at home and fail, it's likely the stain or any residue has been permanently set. Bring the garment to Flair, and we'll do our best to remove it, however, once washed or treated at home, the chances of success dwindle.
Fall Clothing Care
Many of us pull out our best leather outfits and outerwear for fall. If you do, keep in mind that leather is best cared for by the leather professionals at Flair. Between cleanings, let leather items air dry if they get wet and store them in a dry space away from moisture. Like leather, it is best to take your suede items to Flair, to avoid permanent damage.
Jeans are the most common piece of clothing worn in fall, from jackets to pants and from dresses to skirts. However, many people don't care for them properly. To keep your jeans vibrant, wash them inside out. Use an eco-friendly detergent made specifically for dark colored fabrics. Add a half-cup of vinegar, no detergent, to help remove odors. Or, bring them to Flair.
If you have other fall stains you'd like to know about, contact us via email, social media, phone or in person.